Pheochromocytoma is a rare, usually noncancerous (benign) tumour that develops in an adrenal gland, secreting excess of Catecholamines, Adrenaline and Nor-Adrenaline. Usually, this type of tumour affects one of your two adrenal glands, but it can affect both.
If you have a pheochromocytoma, the tumour releases hormones that cause either episodic or persistent high blood pressure. Untreated, a pheochromocytoma can result in severe or life-threatening damage to other body systems, especially the cardiovascular system.
Phaeochromocytoma is a rare tumor of the adrenal glands where the abnormal cells produce too much of Adrenaline and Nor-adrenaline.
Most people with pheochromocytoma are between the ages of 20 and 50 yrs, but the tumor can develop at any age. Surgical treatment to remove a pheochromocytoma usually returns blood pressure to normal.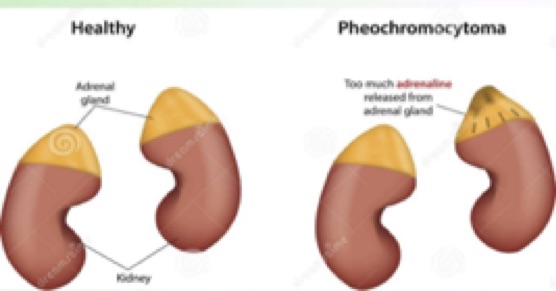 What are the symptoms & signs of phaeochromocytoma?
Symptoms are intermittent and may vary from once a month to several times a day with a duration from seconds to hours. With time they tend to get more frequent and more severe.
There are a number of symptoms that may present but the first 4 are in bold as they are almost invariably present:
Headache
Profuse sweating
Palpitations
Tremor
High blood pressure
Nausea
Weakness
Anxiety
Sense of doom
Shortness of breath
What are the necessary investigations?
1. 24 hour urine for VMA/Catecholamines – These hormones are difficult to assay in blood and comes in pulses. That is why 24 hour urine is the best screening test. Sometimes it is requested 2-3 times.
How the Test is performed:
A 24-hour urine sample is needed. On waking up urinate in the morning and do not collect it. Your time starts now.
Keep it in a cool place during the collection period.
Collect all subsequent urine (in the special container) throughout the day and night
Next day at the same time urinate into the container. This completes your collection.
Cap the container & return it as instructed.
Following are to be avoided during the collection for three days prior to the test

Foods: Coffee, bananas, chocolate, citrus fruits, and vanilla
Drugs: Levodopa, lithium, aminophylline, clonidine, erythromycin, methyldopa, quinidine, tetracyclines, nitroglycerin, imipramine, phenothiazines, salicylates, metoclopramide, domperidone, hydralazine, decongestants.
2. Imaging: After biochemical confirmation of a tumour, imaging is necessary to locate it.
Tumors can be located using computerized tomography (CT) scan, a magnetic resonance imaging (MRI) scan, or the meta-iodobenzylguanidine (MIBG) a scanning technology that can detect tiny amounts of an injected radioactive compound taken up by certain tumours.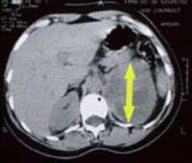 3. Functional scan: This is called MIBG (MetaIodo Benzyl Guanidine) scan or Octrotide scan are helpful to detect small tumours which are not picked up by CT scan or metastasis. Pre-operative identification is of help to plan for surgery.
4. Genetic test: This is one such tumours where genetic studies are recommended, hood news in India we are getting these done now, although costly. Genetic test is also helpful to find out the risk in family members.
How do we treat?
The primary treatment for a pheochromocytoma is surgery to remove the tumour. Sudden release of hormone when Surgeon touched the gland can cause very high BP, so pre-operative preparation is needed.
We suggest getting admitted for 2 days before surgery. They need a long time to follow up with at least a 24-hr urine test once a year. 
Also see,