Dr Shaila Shamanur B: MBBS (JJMMC), MD (Paed), DCH, DM (Endo), DCH (UK), MRCP (UK)
Consultant Paediatrician and Paediatric Endocrinologist
Dr Shaila SB was born in 1963 (daughter of Shamanur Shivashankarappa and Parvathy Devi), graduated from JJMMC, Davangere (MBBS). She obtained DCH and MD in Paediatrics from JJMMC only.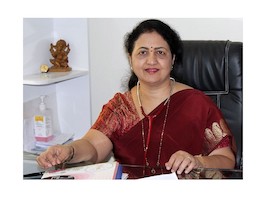 She did her DM in Endocrinology at PGI, Chandigarh. She has worked in the UK for 5 years in Neonatology, Paediatrics and later in Paediatric Endocrinology at Manchester Children's Hospital. During her stay in the UK, she did her DCH and MRCP.
Dr Shaila is Consultant Paediatritian and Paediatric Endocrinologist at Manipal Hospital, Bangalore, Professor of Paediatric Endocrinology JJM Medical College (Rajiv Gandhi University), Co-Chair of Shivajoyti, dedicated set up for treatment and research in Diabetes and Endocrinology.
Dr Shaila has pioneered the Fellowship programme in Paediatric Endocrinology Manipal Academy of Higher Education to train post-MD/DNB Paediatrician.
Dr Shaila's areas of special interests are growth disorders in children, early and late puberty, childhood and adolescent diabetes and diseases of the thyroid gland.
She has more than 30 publications in various national and international Journals.
She has co-authored patient information booklets on Diabetes, Thyroid and Endocrinology in English, Hindi, Bengali, Kannada, Telugu, Tamil and Malayalam.