Other than giving Insulin injection by Syringe or pen, we can attach to a small portable Insulin pump from where throughout 24 hours you can get Insulin and you can avoid daily pricking yourself.
How it works?
Insulin pumps are small, computerized devices that help to manage blood sugars in people with Diabetes. The pump releases a small amount of insulin into your body through a small flexible tube or catheter which goes under your belly's skin and is taped in place.
It works nonstop according to a programmed plan. The amount of insulin to be delivered can be changed. Between meals and overnight the pump constantly delivers a small amount of insulin to keep blood sugars in target range, which is called the basal rate.
When you eat food you can program extra insulin a bolus dose into the pump. You can calculate how much bolus you need based on the grams of carbohydrates you eat or drink.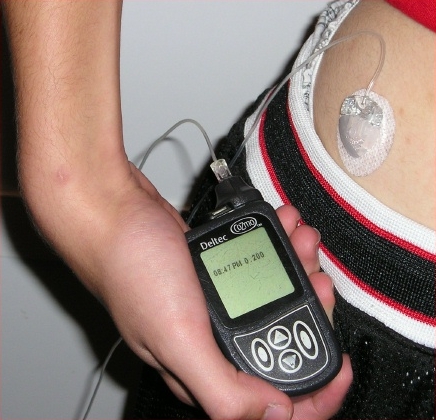 What are the advantages and disadvantages of using insulin pumps?
The advantages are it eliminates individual insulin injections, delivers more accurately than injections, improves Blood sugar control and reduces hypoglycaemic episodes. The disadvantages are it is expensive and can cause weight gain.